U.S. Plays Cyberspy vs. Cyberspy
The revelation of the cyber-espionage program known as Regin suggests the U.S. is an aggressive participant in online sleuthing and combat.
by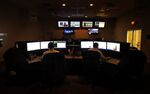 With revelations that critical infrastructure in the U.S. has been under sustained attack, likely perpetrated by Russia, it's easy to forget that we're not merely a victim amid the waves of repeated cyberattacks.