Russia's Big Bet on the French Far Right
Is Russian President Vladimir Putin seeking to influence Europe through a French far-right party with a history of racism and anti-Semitism?
by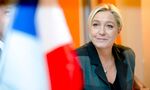 It literally pays to be a European friend of Russian President Vladimir Putin. At least that's the experience of Marine Le Pen, whose far-right National Front party has secured a 9 million-euro Russian bank loan in what appears to be a Kremlin bet on the future of French politics.