view
Russia's Big Bet on the French Far Right
Is Russian President Vladimir Putin seeking to influence Europe through a French far-right party with a history of racism and anti-Semitism?
by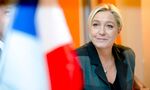 It literally pays to be a European friend of Russian President Vladimir Putin. At least that's the experience of Marine Le Pen, whose far-right National Front party has secured a 9 million-euro Russian bank loan in what appears to be a Kremlin bet on the future of French politics.
The National Front, an anti-immigrant, anti-European Union party with a rich history of racism and anti-Semitism, certainly can use the money. In 2012, the latest year for which data on French political party financing are available, its cash inflows amounted to 6.2 million euros, about 1/10th of what the ruling Socialist Party took in. A combination of big state subsidies for the largest parties and restrictions on private donations entrenches France's two-party system, in which the Socialists battle the center-right UMP in every election. Any force seeking to break in needs a lot of cash. 
Le Pen thinks her party has a chance. The National Front did unusually well in recent elections to the European Parliament and in municipal ballots. By some measures, Le Pen is now the most popular candidate in the run-up to the 2017 presidential election. Granted, the ballot is far off, and polls suggest Le Pen would not do well in run-offs against the established parties' strongest candidates. Still, Le Pen is seeking to solidify her position by lining up loans to fund the party's next campaigns, starting with the 2015 regional elections.
French banks have not been forthcoming -- perhaps because of the party's reputation, perhaps because the bet on its electoral success looked too risky. "No bank wants to give us as much as a cent," National Front treasurer Wallerand de Saint-Just complained as he justified the Russian loan. "We have cast the net wide: in Spain, in Italy, in the U.S., in Asia and in Russia, and we have signed with the first catch and we are very happy," the daily Le Monde quoted Le Pen as saying. 
The net must have been cast very wide indeed to drag in the First Czech Russian Bank, a small financial institution that ended 2013 with assets of $771 million. The bank is 100 percent owned by a low-profile financier named Roman Popov, who has no known projects in France. Before he joined the bank as chief executive in 2002, Popov worked for Stroitransgaz, a major pipeline contractor for Russia's natural gas monopoly, Gazprom. Stroitransgaz once owned FCRB, but by the time the close Putin friend Gennady Timchenko acquired the pipeline builder, Popov and Stroitransgaz chief executive Viktor Lorenz were the bank's only shareholders.
Although FCRB has no direct ties to the Russian government or to any of the individuals on EU and U.S. sanctions lists, the loan has Kremlin fingerprints on it. Saint-Just said that European Parliament deputy Jean-Luc Schaffhauser recommended FCRB to him and Le Pen. The National Front legislator has close ties to Moscow: He recently visited Donetsk, Ukraine, with a spurious European mission to observe elections held there by pro-Russian separatist leaders. According to the French news site Mediapart, his Moscow contact was Alexander Babakov, a pro-Kremlin legislator who owns various businesses in Ukraine and who is on the EU's Ukraine-related sanctions list.
A loan to a foreign political party is hardly business as usual for a small financial institution serving medium-sized businesses and private customers. That said, what would be a big and strange bet for Russian citizen Roman Popov would be a tiny and understandable one for Russian President Vladimir Putin. The Russian government spends billions on self-aggrandizing projects like this year's Sochi Olympics. If Le Pen breaks through, Putin will have a formidable fifth column inside the EU.
For Le Pen herself, taking Russian money is not a problem: She has never made a secret of her support for Putin, and her voters won't be scandalized. The battle lines are drawn, and there's no point in being shy about declaring one's allegiances. Le Pen's openness about her new funding source is yet another reason for the mainstream parties to get their act together and keep the National Front from making it big -- that is, unless they want Putin's backdoor into French politics to turn into a wide-open gate.
To contact the author on this story:
Leonid Bershidsky at lbershidsky@bloomberg.net
To contact the editor on this story:
Mark Whitehouse at mwhitehouse1@bloomberg.net
Before it's here, it's on the Bloomberg Terminal.
LEARN MORE