Outside Forces Drive China's Big Flip-Flop
China's puzzling and contradictory moves to strengthen its currency and cut its interest rates are reactions to course set by U.S. and Europe.
by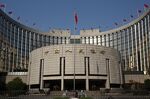 For all its political intrigue over the years, China has had a relatively clear economic strategy, at least until recently. In the last few weeks, however, its approach to managing its exchange rate has puzzled those who closely follow it. The move by China's central bank on Friday to cut interest rates adds to the surprise, as does talk of further monetary stimulus.