Greatest Catch Ever? Too Soon to Tell
So how meaningful is a play that comes in a meaningless game?
by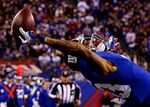 By now, you've no doubt seen New York Giants receiver Odell Beckham Jr.'s ridiculous, three-fingered catch in last night's game against the Dallas Cowboys. It's propelled the rookie into the national spotlight and is being hailed as the Greatest Catch in NFL History.
There's no denying how unlikely and skillful the play was. Leaping on a ball slightly behind him, falling backward while twisting sideways, not even using his whole hand, staying in bounds and landing in the end zone -- all while being interfered with -- it was epitome of superhuman, physics-defying spectacle that makes sports worth watching. But is it the greatest of all time? It really depends on what you consider to be "greatness" in sports. If it is about those moments that launch careers and make highlight reels for years to come, then Beckham's catch may be deserving of that title. If it's about significance, however, The Catch just might warrant a bit more discussion.
One of the beautiful aspects of sports is that, in a world of gray, it's relatively black and white. You know where you stand -- the scoreboard is all that matters. On the other hand, one of the beautiful aspects of fandom is getting to have all of those debates that don't really have right answers, let alone material consequences -- from comparing players from different eras to arguing over what constitutes "value" in MVP awards.
That we tend to dwell on these particular issues speaks to the philosophical differences we have on sports. As the all-time scoring leader, was Kareem Abdul-Jabbar a greater player than Bill Russell, who won the most championships in NBA history? Can a player who led the league in individual stats be considered the "most valuable" if he failed to help his team make the playoffs? Is sports ultimately just about winning?
Maybe I'm just a bitter Giants fan, but it's a bit difficult to celebrate such an admittedly spectacular play in a loss to a division rival in an already lost season. Sure, it came during a prime-time, Sunday Night Football game, in a matchup of marquee franchises, and everything's bigger in New York (er, New Jersey).  But when you think of the Greatest Catches of All Time, what comes to mind are plays that were incredible for both their athletic feats and their impact on the outcome of  important games. The game-winning Immaculate Reception in the 1972 AFC divisional playoff; Lynn Swann's MVP-winning touchdown leap in Super Bowl X; Dwight Clark climbing the ladder in the 1981 NFC Championship game;  and, of course, David Tyree's helmet catch to save the Giants' title-winning drive in Super Bowl XLII. All the way back to the original play known as "The Catch" -- Willie Mays's over-the-shoulder haul in Game 1 of the 1954 World Series -- all of these plays made history because they shaped history. 
Twenty years down the line, while you'll remember Beckham's catch, you'll remember nothing of this Giants team except its continued foray into mediocrity. So how meaningful is a play that comes in a meaningless game? 
Beckham himself isn't particularly concerned with the historical significance of last night's grab. "I hope it's not the greatest catch of all time," he told Giants.com. "I hope I can make more."
Indeed, if it marks the coming out of a legendary player, then it may take on a historical significance now lacking. "As long as he stays healthy he could potentially be one of the greatest to ever play the game," teammate Mathias Kiwanuka said. "It breathed life into the entire team, the entire organization."
After a 31-28 loss, a 3-8 record, and two straight losing seasons, the Giants look nothing like the team that won it all three years ago. But amid a dismal present, Odell Beckham Jr. is giving the Giants and their fans reason to hope for the future. And maybe that's what sports is really about.
This column does not necessarily reflect the opinion of Bloomberg View's editorial board or Bloomberg LP, its owners and investors.
To contact the author on this story:
Kavitha A. Davidson at kdavidson19@bloomberg.net
To contact the editor on this story:
Tobin Harshaw at tharshaw@bloomberg.net
Before it's here, it's on the Bloomberg Terminal.
LEARN MORE