A Defense of Marion Barry's Politics
Marion Barry was the right man for the wrong job.
by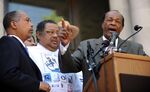 Councilman Marion Barry died this weekend.  He was colorful, a bit larger than life, flawed, a man of fierce determination and great appetites, an indelible part of the history of Washington. But I come neither to bury Barry, nor to praise him. Instead, I think it's worth talking about the historical forces that made Marion Barry what he was -- and the long war for the soul of the Democratic Party that his death illuminates.