Obama Gave a Bad Speech. Let It Go.
If Republicans want lasting legislative victories on issues like immigration, they must learn to pick their battles.
by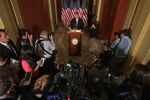 I'm not a huge fan of Barack Obama's decision to go the executive, rather than legislative, route on immigration reform. And I was definitely not a huge fan of last night's speech, which seemed almost deliberately unconvincing.  But there we are; they happened.  So what should Republicans do about it?