Markets Love Central-Bank Gifts
Financial markets reacted positively to news that China's central bank would cut interest rates, and with good reason -- at least for the time being.
by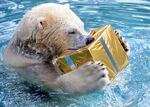 Equity markets around the world are responding enthusiastically today to news of further central-bank stimulus, and understandably so. Central banks have been the markets' best friends. Betting on their continued support has been a very profitable strategy for investors in recent years.