view
Friday Baseball Post: Giancarlo Stanton Stays Solid
A very good, if a little disappointing, peak.
by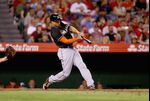 Giancarlo Stanton is the real deal.
I was surprised to see, however, that his baseball-reference comps are a bit on the lackluster side. I'm not sure it means anything; this is mostly just poking around and having fun. But for what it's worth …
His top comp is Juan Gonzalez. Now, the Fish are going to be happy if he matches Gonzalez, who was excellent through his age 31 season. But he was only excellent; at his peak, Gonzalez looked like a possible Hall of Famer, but he was never a real threat for Best Player in Baseball status.
And, with the huge exception of (No. 9) Frank Robinson, the only HOFer on the list, that's pretty much the story here. Stanton's comps include some serious burnouts (Bob Horner, Darryl Strawberry) and some very good players (Andruw Jones, Jack Clark). But his list is nowhere close to as strong as, say, what Mike Trout has (five Hall members and two future inductees). Or the even more impressive list Miguel Cabrera had after his age 24 season. Or Albert Pujols.
Some of that might be just the quirks of baseball-reference's system. And being off to a less exciting start than Trout, Cabrera and Pujols is nothing to be embarrassed about. He doesn't have to be quite on that level for his contract to work out for the Marlins, either. Still, what his list says to me is that he's a solid All Star level player who probably has reached his peak and who has a fair chance of having a somewhat disappointing (but still very good) career. Disappointing, at least by record-breaking contract standards.
To contact the author on this story:
Jonathan Bernstein at jbernstein62@bloomberg.net
To contact the editor on this story:
Max Berley at mberley@bloomberg.net
Before it's here, it's on the Bloomberg Terminal.
LEARN MORE