Boehner Betrays Congress
Why would Speaker John Boehner want to surrender Congress's power?
by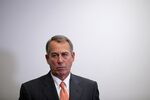 Republicans have finally filed their lawsuit against the president over implementation of the Affordable Care Act. Actually, the president isn't a respondent; the suit names the secretary of health and human services and the Treasury secretary. It's still a horrible idea.