'Interstellar's' Guide to Fixing Our Climate
What makes "Interstellar" so enjoyable is its boundless optimism in the ability of science to solve a disaster.
by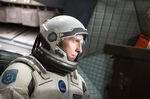 I finally got out to see Christopher Nolan's "Interstellar" last weekend, and I enjoyed it immensely. Yes, Hans Zimmer's score was maddeningly intrusive, and there were plot holes galore, but the film taken as a whole I found remarkable.