view
How to Stop Asia's SAT Cheats
SAT cheating is far too easy in Asia. Here's how to stop it.
by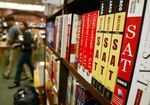 On Dec. 6, nervous teenagers around the world will sit down to take the SAT. Most will succeed or fail honestly. Others, particularly in Asia, may well have bought the answers beforehand. As evidence, FairTest, a Massachusetts-based organization that advocates for standardized-testing reform, sent me the transcript of an online chat with an anonymous seller in China, who offered to provide a copy of the upcoming Dec. 6 test for as little as $3,000.
While it's impossible to verify the seller's claim, the problem of SAT fraud in Asia is widely acknowledged. Late last month, the Educational Testing Service -- which administers the SAT for the 6,000 colleges and universities represented by the College Board -- temporarily withheld scores from Chinese and South Korean students who had taken the test in October. Many were suspected to have procured questions and answers -- which had previously been administered in other parts of the world -- in advance. (ETS says that all students have now been given their scores, except for those who took the test outside their home countries.)
The problem goes well beyond the SAT, too. Pressure for Asian students to get into top-notch U.S. universities is immense and growing. According to data released this week by the U.S. State Department and the Institute for International Education, Chinese and South Korean students constitute 31 percent and 7.6 percent, respectively, of the 886,052 international students enrolled in U.S. higher education institutions. Chinese numbers have grown 17 percent over last year.
Both there and in Korea, parents who belong to the swelling middle class and wealthy elite don't mind spending huge sums to make sure their offspring get into the right U.S. school. Consultants offering to prepare students and polish their pitches can charge as much as $600,000 for a successful Ivy League application. At those prices, few parents are likely to be squeamish about the kind of "help" provided.
For example, in 2010, Zinch China, a consultancy for U.S. colleges and universities in China, published a survey of 250 Beijing students, as well as a dozen individuals involved in college admissions. The widely cited results were distressing: Nearly 90 percent of applicants said they'd submitted fraudulent recommendation letters, and half had used false transcripts. Though Zinch didn't reveal the incidence of test fraud, it seems logical that if parents were willing to pay for fake transcripts, they probably wouldn't think twice about paying for SAT answers.
These are not victimless acts. Honest students suffer for being denied admission to top schools, and cheaters suffer if they can't perform up to the standards set by their applications. A 2013 study by a Chinese NGO claimed that one in four Chinese students attending Ivy League schools dropped out due to language issues and differences between the U.S. and Chinese educational systems. Even if none of those students had cheated on their applications, a more careful vetting of international students wouldn't have hurt.
A good place to start is with the SAT. Currently, ETS administers tests and questions in Asia that have already been used elsewhere in the world (a "standard and well-known practice in the testing industry," according to ETS), thereby enabling the collection and sale of answers. While generating separate tests for Asia will certainly raise costs at highly profitable ETS, it's worth the expense.
 Next, ETS should consider converting the SAT to a so-called computer-adaptive test, rather than as a pencil-and-paper exam. In such tests, the difficulty of the questions is adjusted in real-time to a test-taker's performance, thereby making it much harder to copy tests and questions (especially if the pool of potential questions is large), and easier to monitor for cheating. Currently, the GRE and GMAT are adaptive; there's no reason -- except cost -- that the SAT couldn't be, too.
Finally, schools that recruit abroad need to take greater care in evaluating applications and interviewing students, before accepting them on the basis of outstanding test scores and transcripts. In such a hyper-competitive environment, cheating will persist. But making commonsense reforms to the SAT, and asking commonsense questions, will make admissions procedures better and fairer for everyone, not just students from Asia.
To contact the author on this story:
Adam Minter at aminter@bloomberg.net
To contact the editor on this story:
Nisid Hajari at nhajari@bloomberg.net
Before it's here, it's on the Bloomberg Terminal.
LEARN MORE