view
Everybody's Running (Jim Webb Edition)
Jim Webb in 2016 race may be a lot like Bill Bradley in 2000 or Eugene McCarthy in 1968 -- meaning he doesn't have a chance.
by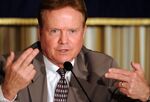 Well, Democrats now officially have a contested nomination for 2016: Former Virginia Senator Jim Webb is in.
I was pretty dismissive of Webb the last time I looked at the anti-Clinton potential Democratic field, and I see no reason to change that view. There's nothing to suggest that the Democratic Party actors who have the largest say in deciding nominations would choose him over Hillary Clinton. There's no particular reason to believe Webb, unlike Vice President Joe Biden or Maryland Governor Martin O'Malley, would even be a strong second choice.  
Webb -- a successful writer and Vietnam War hero who opposed the Iraq war -- isn't so much a serious candidate for a presidential nomination as he is an interesting person who has chosen to enter the contest. In that, he reminds me of Bill Bradley in 2000 or perhaps Eugene McCarthy in 1968. Interesting people can be excellent (or so-so) senators, but they never get close to presidential nominations. For that, the requirement is almost insane ambition.
Nevertheless, on the surface Webb looks like a viable candidate (he fits my criteria of having convention qualifications and fitting in the mainstream of his party on policy). He also appears to be well-regarded by many in the national press corps. So even if he polls badly six months from now and has little in the way of  the organization that real candidates need, it will probably be easier for Clinton to accept at least a couple of debates with him than to freeze him out.
If it's good for the Democrats to have a contested nomination -- and I think it is -- then Webb is probably sufficient. Of course, though Webb made it more formal, both O'Malley and Vermont Senator Bernie Sanders are also running, at least for now (and just because someone has formed an exploratory committee in November 2014 doesn't mean they''ll be around in November 2015).
General rule of thumb: The less people are inclined to take a candidate seriously, the sooner he or she will take the formal steps involved in declaring a candidacy. So it isn't surprising that Webb has been what passes for an early mover in this late-developing contest. 
To contact the author on this story:
Jonathan Bernstein at jbernstein62@bloomberg.net
To contact the editor on this story:
Katy Roberts at kroberts29@bloomberg.net
Before it's here, it's on the Bloomberg Terminal.
LEARN MORE