Tiger Woods Makes Sportswriting Look Hard
We can't be all too surprised that the Players' Tribune so far has been largely a glorified press-release hub.
by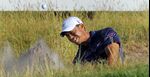 Jason Collins, the first openly gay man to play in North America's four major professional sports leagues, announced his retirement from the National Basketball Association today. Collins, who last played for the Brooklyn Nets, made the announcement in dual posts for Sports Illustrated and the Players' Tribune, Derek Jeter's post-retirement experiment in first-person athlete blogging.