Fed and Markets More Co-Dependent Than Ever
The central bankers are watching investors' backs, protecting them from economic sore points. In return, the Fed gets a macroeconomic policy.
by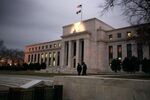 The minutes of the Federal Open Markets Committee, the Federal Reserve's policy-making body, are often of interest for specific insights and technical details.