Uber's Dirty Tricks Won't Hurt It
Uber's ham-handed plans to deal with negative press by smearing reporters is foolish, but it probably will do little to dim the company's growth prospects.
by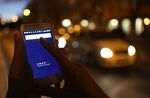 The rideshare company Uber, with an implied value of about $18 billion and on the hunt to raise additional capital, is dealing with a public-relations nightmare of cartoonish proportions. Emil Michael, the executive in charge of the company's partnerships with the likes of Spotify and American Express, told a table full of New York City power players, including BuzzFeed Editor-in-Chief Ben Smith, that it would make sense for his company to hire opposition researchers to attack journalists.