Beginning of the End in Hong Kong
Hong Kong's Occupy Central has run its course. To remain relevant, protest leaders need to recast their fight.
by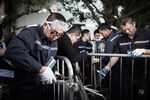 Tuesday morning saw the beginning of the end of the pro-democracy protests that have wracked Hong Kong for nearly two months. Armed with a court order to clear part of the main protest site in the city's Admiralty district, bailiffs dismantled and removed barricades with little opposition. Several protesters vowed to continue occupying the streets until Beijing meets their demands for open nominations for Hong Kong's next leader. Their numbers are dwindling fast, though, and Hong Kong authorities are understandably confident that the remaining sites can be cleared in coming days.