Editorial Board
End the Ban on Gay Blood Donors
A federal advisory committee has called for easing restrictions on blood donations from gay men. The government should say yes.
by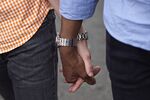 In 1983, when the public's fear of AIDS far exceeded researchers' understanding of the disease -- not to mention society's commitment to equal rights for gay and bisexual men -- the U.S. Food and Drug Administration banned blood donations from any man who has had sex with another man since 1977.
Now, a federal advisory committee recommends ending that ban and replacing it with a one-year "deferral period." That is, men could give blood as long has they've had no sex with other men in 12 months. The FDA should accept this recommendation as a first step toward further relaxing the restriction.
It's not clear how much this change would increase the number of blood donors. But that's not the only goal. More important is to institute a policy that reflects science and avoids needless discrimination, without compromising blood recipients' safety.
This change appears to meet that test -- based on the experience so far in Australia, which more than a decade ago swapped its blood-donation ban with a one-year deferral. Since then, HIV hasn't increased in the Australian blood supply.
The U.K. and New Zealand have also moved to one-year deferral periods, but most European countries maintain the lifetime ban. Last year, Canada ended its ban but set a deferral period of five years -- not based on evidence that any longer time is warranted, however.
Why have a deferral period at all? Given that every unit of donated blood is tested for HIV and the virus can be detected as soon as nine days after transmission, 365 days is an arbitrarily long time.
The idea is that a waiting period might limit the number of high-risk donors and thus reduce the small chance of using infected blood that falsely tests negative. It also addresses the concerns of blood recipients -- which are rooted as much in fear as in science.
Yet these are imperfect rationales. If the FDA ends the blood-donation ban and finds that it doesn't lead to an increase in HIV-positive blood, it should then consider shortening the deferral period. For donors who are in monogamous, long-term relationships, perhaps the ban should be lifted altogether.
--Editors: Christopher Flavelle, Mary Duenwald.
To contact the senior editor responsible for Bloomberg View's editorials: David Shipley at davidshipley@bloomberg.net .
Before it's here, it's on the Bloomberg Terminal.
LEARN MORE