What to Make of the G-20
The G-20 and other summits cost a lot and produce little. Their benefit? They give cover to bilateral deals, such as the U.S.-China climate pact.
by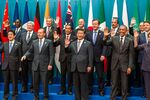 Despite the enormous efforts of its Australian hosts, the weekend's meeting of the Group of 20 leaders in Brisbane will be remembered more for the theatrics of Russian President Vladimir Putin than for breakthroughs on the solutions that a sluggish global economy desperately needs.