view
The DEA Decided the NFL Needs a Checkup
Drug enforcement agents surprised some visiting NFL teams on Sunday with locker-room inspections.
by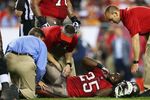 Drug enforcement agents surprised some visiting NFL teams on Sunday with locker-room inspections concerning the improper use of prescription painkillers.
According to ESPN's "Outside the Lines," medical staff from the San Francisco 49ers, Seattle Seahawks and Tampa Bay Buccaneers were subject to random checks as part of a leaguewide investigation of team doctors. The inspections were conducted without a warrant and were called administrative. "Our teams cooperated with the DEA today, and we have no information to indicate that irregularities were found," league spokesman Brian McCarthy said in a statement.
Back in May, a group of retired players filed a federal lawsuit on behalf of more than 1,300 others alleging that team doctors in the National Football League had systematically and illegally administered painkillers without prescriptions or any regard for their interactions or long-term health consequences. A 2011 study by Washington University in St. Louis found that retired NFL players were four times more likely to abuse narcotic painkillers than other people, while 63 percent said they were given the medications by nonmedical personnel, including teammates, coaches and trainers. Former players such as Marcellus Wiley have traced serious health problems such as kidney failure to the drugs they were instructed to take during their playing days, some of which have since been banned by the Food and Drug Administration due to severe side effects.
The class-action lawsuit triggered an investigation by the Drug Enforcement Administration into the league's 32 teams, specifically on whether medication practices violate the Controlled Substances Act and its specific guidelines for the distribution of prescription drugs. The DEA's focus on Sunday specifically on road teams concerns a rule about the issuance of medication across state lines. According to the Washington Post, the agents were looking to see if team doctors were prescribing painkillers outside their licensed jurisdiction.
Some have dismissed this as a frivolous technicality that sidesteps the broad issue of narcotic abuse. But whether NFL doctors are obtaining the proper registrations to administer prescriptions while on the road speaks to a larger concern in the DEA's investigation: documentation. ESPN reports that the DEA suspects visiting team doctors aren't keeping "readily retrievable" records of what medications they're giving and to whom. As detailed in the players' suit, the failure to keep track of painkillers can lead to overprescription and overdosages, dangerous interactions with other medications, the buildup of tolerance to pain relief, and long-term addiction. It also can pave the way for the more blatant abuses alleged in the suit, including administering drugs without a prescription and their distribution by nonlicensed or nonmedical team staff.
Prescription-drug documentation should be part of the comprehensive medical history players need -- and have historically been denied -- when seeking treatment after retirement. More than 90 percent of former players suffer from lifelong pain that they attribute to their time on the football field. For better or worse, some of these players concede these injuries as the price they were willing to pay for the so-called privilege of playing in the NFL. Yet even among those, many still think the league hasn't done enough to extenuate some of these risks. The overprescription of pain medications is indicative of a desire to get the most immediate production out of players. The failure to properly track prescriptions also signals little regard for what happens to these men down the road, denying their future health-care providers information as they treat chronic injuries, heart conditions, brain damage, organ failure and narcotic addiction.
This year saw a federal push toward the thorough documentation of prescription drugs as a means to combat abuse. In July, the New York Times reported that Missouri is the only state that doesn't keep a comprehensive prescription drug database, due to privacy concerns. Although the implementation of the databases varies by state, they have been widely effective in keeping track of not just the patients who abuse painkillers but also the doctors who readily push them. Kentucky, New York and Tennessee have the strictest programs and have seen an 8 percent drop in prescribed narcotics.
In addition to former players, federal prosecutors are interviewing several team doctors, in keeping with the DEA's strategy of cracking down on physicians who create addicts by overprescribing. The continued and flawed practice of employing team doctors leaves open the constant potential for improper practices of medicating players. Physicians who receive their paychecks from teams and the league are inherently confronted with the conflict between their patients' well-being and the interests of the employers. Sunday's surprise inspections yielded no findings of impropriety, but hopefully they signal the sustained pressure on NFL teams to keep their medications practices above board. As Will Leitch points out over at Bloomberg Politics: Washington is watching.  
To contact the author on this story:
Kavitha A. Davidson at kdavidson19@bloomberg.net
To contact the editor on this story:
Stacey Shick at sshick@bloomberg.net
Before it's here, it's on the Bloomberg Terminal.
LEARN MORE