Romania's Election Surprise Came From Abroad
Open borders, open minds.
by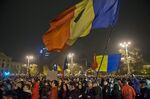 The unexpected victory of the opposition candidate Klaus Johannis in Romania's presidential election yesterday  is an important development -- not just for Romania, but for the European Union as a whole. Migration within the union, which has led to the rise of anti-EU political groups in some wealthier nations, including the U.K., is paying off: It is helping nations on the periphery such as Romania adopt the best practices of  the older, core democracies.