Putin-Bashing at G-20 Meeting Was Juvenile
Western leaders should have refrained from slighting Putin at the G-20 summit: It can only provoke him further.
by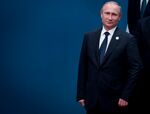 At the Group of 20 meeting in Brisbane, Australia, over the weekend, Russian President Vladimir Putin was slighted in numerous ways, big and small. "I guess I'll shake your hand," Canadian Prime Minister Stephen Harper said to his face. U.K. Prime Minister David Cameron, in a public statement, made a mocking reference to the Russian Navy vessels parked off Papua New Guinea ahead of the summit: "I didn't feel it necessary to bring a warship myself."