Jaguar Mistakes Nostalgia for Emotion
What does "emotion" mean in the auto industry? And why do premium car consumers seem to want it in their luxury vehicles at least as much as they want "high quality"?
by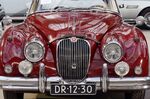 What does "emotion" mean in the auto industry? And why do premium car buyers seem to want it at least as much as they want "high quality"?
Traditionally, "emotion" in automotive design referred to risk-taking designs and performance tuning. An engine that traded refinement for extra pull and a lusty roar. Suspension set up on a razor's edge, an ally to the experienced driver but dangerous to the uninitiated. But these markers of uncompromised design have been wiped out by both technological maturity and the march of regulation and lawsuits. Social order -- if not "progress" -- has made connecting emotionally with car buyers as elusive today as any clear advantage in an era of rapidly maturing technology.
The storied Jaguar brand is facing the fight of its life as its new XE sports sedan takes on a brutally competitive segment long defined by the BMW 3 Series. Though the new Jaguar boasts a "mostly" aluminum body, adaptive dampers and handsome styling, there's little evidence that consumers understand, let alone appreciate, much of what these things mean. In an era of rapidly maturing automotive technology, Jaguar needs more than a good -- or even great -- car to take on the 3 Series, let alone break into the three-way fight for premium-brand supremacy between Mercedes, BMW and Audi.
After all, the stranglehold the so-called "G3 brands" have on global premium-brand sales is so complete that Lexus has apparently stopped trying to overtake the German juggernauts. While declaring Lexus parent Toyota's assault on the premium market "out of its adolescence," Lexus Europe boss Alain Uyttenhoven conceded recently that it was "impossible" to overtake the three leading premium brands in global sales, adding that Lexus would settle for fourth place. Tellingly, Uyttenhoven added that in addition to "high quality vehicles, excellent customer service and environmental responsibility, it is now time for emotion to be added."
Jaguar is widely considered to possess that mythical quality of "emotion," but its upstart XE is no more aggressively styled than Lexus's IS, the latest competing model to take on BMW's 3-Series. Performancewise, the differences between the two are likely to be negligible to all but the most discerning drivers, a small and shrinking demographic.
So premium car brands are left with little more than their own pasts to set their remarkably similar products apart. The G3 brands can point to anywhere from 30 to 100 years of near-uninterrupted excellence; history is their ally. On the other hand, brands such as Jaguar, Cadillac, Alfa-Romeo and others -- which have undeniably fallen from grace (at least once) at some point during the last 30 to 100 years -- are stuck looking for a way to connect the stifled present to a deeper, more glorious past.
From this desperation, new ideas are emerging. Jaguar recently opened its new Heritage Workshop, which will build a limited number of special track-only competition cars based on its classic E Type for more than $1 million each. More significant, Jaguar has just begun offering opportunities to drive and ride in some of the most groundbreaking and historic models in its private collection. By experiencing cars from an era that gave "emotion" full expression, Jaguar is hoping consumers will be won over to the brand before they even get to compare the new XE to its competition.
This "heritage as a service" concept opens exciting new possibilities to premium car brands seeking greater leverage through their glorious histories, but it also reinforces how dangerously stuck in the past they have become. The risk is that automakers are so focused on baby-boomer-derived profits that they ignore the profound shift in automotive values that will take place when those boomers stop buying cars. This risk is perhaps best exemplified by Bernie Ecclestone, the power behind Formula One racing, who recently argued that the racing series has no reason to attract young fans as they don't have the money to spend on the products being advertised by the racing series' luxury-brand sponsors. He's right: Fifteen-year-olds don't buy Rolex watches any more than they buy BMWs. But 15-year-olds eventually grow up. 
If cars, whether for racing or the road, are to remain relevant and aspirational, automakers will have to look past short-term profits (see the public's runaway enthusiasm for Tesla, a clear product of that firm's prioritization of long-term vision over profitability). The established players have a decade or two to rake in the last of the baby boomers' cash, but the end of that gold rush is already in sight. Younger generations, brought up in a world transformed by the information revolution, want a similar revolution in mobility. The right exploitation of emotion-conferring heritage might help steal baby boomers from one premium brand to another, but it hardly prepares premium automakers for attracting younger generations in search of a new automotive paradigm. 
This column does not necessarily reflect the opinion of Bloomberg View's editorial board or Bloomberg LP, its owners and investors.