An Almost-Convincing Case Against Marriage Equality
Judge Jeffrey Sutton has provided the best argument so far against the constitutional claim on behalf of marriage equality.
by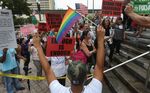 In recent years, many federal judges have voted to strike down bans on same-sex marriage, in part because no one has defended them well. This month, however, Judge Jeffrey Sutton, of the U.S. Court of Appeals for the Sixth Circuit, produced the most powerful defense to date -- one that will give the Supreme Court a serious test.