A Witch Hunt in Finance Won't Create a Safer World
If almost everyone within a financial institution is deemed responsible for risk-taking, then no one really carries the can.
by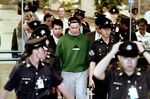 Regulators around the world are making good progress toward preventing future bank crises from hurting the global economy. Some of the new rules proposed for individual bankers, however, have more to do with revenge than safety. Unless the aim is to make life so difficult for the world of finance that the banks are forced to shrink -- and, granted, that may be a desirable outcome -- the proposals risk doing more harm than good.