The G-20 Doesn't Need a Growth Target
World leaders gathering for the G-20 summit in Brisbane should be focused on improving the quality, not the quantity of GDP growth.
by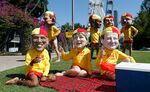 Group of 20 host Tony Abbott went to great lengths to keep one topic -- climate change -- off the agenda at this weekend's confab in Brisbane. There's little mystery why: While the world hails China and the U.S. for moving forward on curbing carbon emissions, Australia is backsliding by scrapping a tax on carbon and resisting pressure to expand the use of renewables.