NBA Commissioner's Smart Bet on Gambling
Congress should get started on moving all that activity above ground and letting the other 46 states in on the action.
by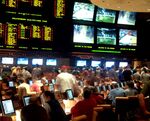 National Basketball Association Commissioner Adam Silver has come out in favor of legalized gambling. Will this signal a shift on the issue among all the major sports leagues?
In an op-ed article for the New York Times, Silver officially reverses the league's previous position, advocating for the smart implementation of legalized gambling in order to bring the flourishing industry out from underground. The arguments mirror those for legalizing other vices such as marijuana and prostitution -- namely, the ability to capture tax revenue and put in regulatory safeguards.
Critics of legal gambling tend to make moral arguments that ultimately miss the point. For one, each professional sports league forbids players from betting on games, and with the value of salaries today, we're not exactly in danger of another Black Sox scandal. More importantly, prohibition has a historically unsuccessful track record and has done little to deter the proscribed behavior. It didn't work with alcohol, and it hasn't worked with point spreads. According to Silver, $400 billion is gambled on the sports black market each year.
Silver would love a piece of that pie to add to the NBA's coffers, but he believes the benefits to the league of legalizing gambling extend far beyond additional revenue. At the Bloomberg Sports Business Summit in New York in September, Silver talked of sports betting as a way to increase fan engagement and draw more viewers to the game. His logic is at least partially demonstrated in the booming popularity of fantasy football, which has grown to a $70 billion business while the NFL's ratings continue to skyrocket.
Back in 1992, the NBA, along with the NFL, MLB, NHL and NCAA, urged Congress to pass the Professional and Amateur Sports Protection Act, which limited gambling on sports to four states: Delaware, Montana, Nevada and Oregon. Last month, New Jersey governor Chris Christie signed a law partially easing the restrictions on sports betting in the state, but was met with heavy resistance from the leagues, including the NBA, due to its violation of federal act. A judge put a restraining order on the state, at the request of the leagues.
Silver writes that nothing short of a federal overhaul of the law is necessary to open legal gambling to all 50 states, and believes such dramatic change is "inevitable," especially as state economies are forced to turn to new tax streams. As the Atlantic's Russell Berman notes, the midterm election results provide an opening for Congress to address the 1992 law. The Democrats' losses mean the Senate will no longer be controlled by Harry Reid of Nevada, who had a clear interest in maintaining his state's stranglehold on the gambling market. But as of Friday, Speaker of the House John Boehner doesn't seem interested in pursuing the issue, while the NFL and MLB haven't budged on their position against legalization.
Still, in time, federally legal sports betting does seem as inevitable as jersey ads and Derrick Rose's next injury. Yes, Congress needs to put sufficient regulation in place to deter predatory practices. But it should get started on moving all this activity above ground and letting the other 46 states in on the action.
This column does not necessarily reflect the opinion of Bloomberg View's editorial board or Bloomberg LP, its owners and investors.
To contact the author on this story:
Kavitha A. Davidson at kdavidson19@bloomberg.net
To contact the editor on this story:
Tobin Harshaw at tharshaw@bloomberg.net
Before it's here, it's on the Bloomberg Terminal.
LEARN MORE