Europe's Economic Anemia
Today's glimmer of growth in euro zone growth is no excuse for the regions's leaders to slack on reform.
by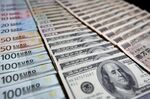 The euro region dodged recession in the third quarter, with gross domestic product expanding by 0.2 percent compared with the previous three months, and at an annual pace of 0.8 percent, according to figures released today by Eurostat. That's no excuse for the bloc's leaders to relax their efforts to rejuvenate the economy, avert deflation and get more workers off the unemployment roster.