Don't Just Trust China on Climate
Opponents of the U.S.-China climate deal say it's foolish to rely on China's promises to cut emissions. Luckily, we're not.
by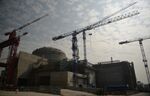 I wrote Wednesday that this week's agreement between the U.S. and China to reduce carbon emissions was a smart move -- not least because it pressures congressional Republicans not to block President Barack Obama's proposed rules on power plant emissions, without which the U.S. can't uphold its side of the deal.