Don't Derail India's Mobile Revolution
India's government is set to reap a windfall from telecom spectrum auctions. Maybe it shouldn't be so greedy.
by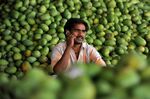 The most revolutionary development in India in the last 20 years has been the rise of the mobile phone. Until 1996, nobody in India had access to a mobile phone. Today, encouraged by rates that are among the cheapest in the world, some 800 million do. With the advent of affordable smartphones, India is one of the best-positioned economies to take advantage of the mobile revolution -- both in terms of designing and testing new apps, as well as transforming industry and commerce. So why is the Indian government putting all that potential at risk?