Under Attack: Your Bank, Your Grid, Yourself
With cyber-attacks escalating against banks and infrastructure, Katie Benner explores the hazards of our modern digital world.
by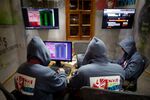 Years ago hackers planted malicious software on computer systems that control parts of the United States' critical infrastructure, including pieces of the electrical grid, gas and water systems. The malware, which the Department of Homeland Security warned about only last month, was dubbed BlackEnergy and traced back to the Russian government.