Finding Data in the Trash
How do you figure out how many residents you're trying to serve?
by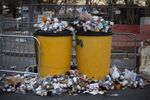 Last night, I had the privilege of having dinner with Karen Freeman-Wilson, the mayor of Gary, Indiana, who discussed the challenges of reviving a city that has been hit hard by the same manufacturing declines that have plagued many of the Midwest's industrial towns. I learned a lot from our conversation, much of which will probably appear in future posts. But here's one tidbit that I thought was worth sharing: how she addressed a really basic data problem. That is, figuring out how many people you have in your city.