Beer Goes Flat As Deflation Stalks Europe
As deflation stalks Europe, G20 officials meeting this weekend should put pressure on their euro region peers to do more for global growth.
by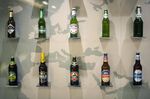 The euro zone's economic malaise is increasingly worrisome for the rest of the world. This weekend's Group of 20 meeting in Brisbane, Australia, provides an unmissable opportunity for the global community to pressure Europe's leaders to do more to reform their national economies -- particularly with regard to labor-market rules -- and to acknowledge that German-inspired fiscal stringency needs to be relaxed.