Winter Is Coming to Ukraine's Energy Supply
A scandal involving Ukraine's South African coal imports shows up the incompetence, corruption and cronyism of the country's government.
by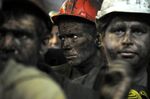 As NATO reported Russian troop movements in Ukraine and renewed fighting threatened to erupt in the country's east, the Kiev government is struggling to find a replacement for the coal it once received from the region controlled by pro-Russian separatists. But President Petro Poroshenko is now reconsidering the government's decision to make up the shortfall with imports from South Africa.  And with winter fast approaching, the uncertainty over the country's energy supply highlighted both Ukraine's challenges and the inability of its politicians' to meet them.