Why Abe Should Take Krugman's Advice
Hawks are pushing Shinzo Abe to follow through on a sales-tax hike next year that could doom any possible recovery. He should resist.
by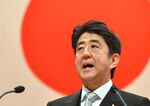 Paul Krugman was an early and enthusiastic fan of Japan's efforts to end deflation. In a January 2013 New York Times column, the Nobel laureate argued the world should learn from Tokyo's "breaking ranks" with the "dismal orthodoxy" of growth-killing austerity.