Obama Outmaneuvers Republicans on Climate Change
The U.S.-China climate agreement announced last night turns the Republicans' main objection to new EPA coal rules on its head.
by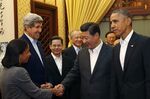 Republicans' best argument against regulating carbon emissions from U.S. coal plants has always been this: If China won't act, what use is it? Why risk harming the U.S. economy if the resulting drop in emissions isn't enough to slow the worst effects of climate change?
The U.S.-China climate agreement announced last night turns that argument on its head. Under the deal, China will aim to begin reducing its carbon emissions by 2030, and the U.S. will reduce its emissions by as much as 28 percent by 2025, compared with 2005 levels -- "reductions achievable under existing law."
Translation: The U.S. can only honor its commitment if proposed regulations from the Environmental Protection Agency, which aim to reduce power-plant emissions 30 percent below 2005 levels by 2030, are allowed to proceed.
So if Republicans in Congress block those rules, they risk tanking the agreement with China, which in turn gives China a reason to back out of the deal. The EPA rules that previously looked senseless in the absence of Chinese emissions reductions are now, arguably, the single most important thing the U.S. can do to ensure those reductions.
You could dismiss the importance of China's 2030 pledge on any number of grounds -- that it's unlikely to come true, or that it was probably going to happen anyway, or that it's not fast enough even if it does happen. But it's leagues better than nothing and could produce momentum elsewhere, so anything that undermines that deal would be a step backward when we can't afford it.
Will any of this sway Republicans? It seems unlikely. But by linking the EPA rules to Chinese action, President Barack Obama has taken the most compelling case against those rules and co-opted it overnight. For a lame-duck president, that's a pretty neat trick.
This column does not necessarily reflect the opinion of Bloomberg View's editorial board or Bloomberg LP, its owners and investors.