Editorial Board
Myanmar Gets Complicated
President Obama and other international leaders should continue to reinforce Myanmar's institutions and democratic processes.
by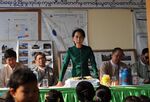 The conflict in Myanmar was once easy to caricature: brutal generals on one side, pro-democracy icon Aung San Suu Kyi on the other. At this point, however, to sustain Myanmar's halting political opening, the world needs to adopt a less black-and-white view.
Abroad at least, Suu Kyi's is still the most-heeded voice on Myanmar. Her pessimism about ongoing reforms -- ahead of her meeting with President Barack Obama this week, she warned the world not to be "over-optimistic" about their progress -- has energized a chorus of critics in Washington calling for renewed pressure on the Burmese regime.
Huge problems continue to beset Myanmar. Negotiations toward a grand cease-fire agreement with ethnic rebels in the north are stuck. Several journalists have been arrested recently, and one brutally killed in army custody. Regime cronies still dominate the economy, and, outside the energy sector, foreign investors haven't followed up an initial burst of enthusiasm with signed deals. State policy continues to discriminate against minority Rohingya Muslims, tens of thousands of whom are trapped in refugee camps.
Suu Kyi is also right to complain that the military, which has reserved a quarter of the seats in parliament for its appointees, maintains an effective veto over political progress. Most pointedly, Suu Kyi herself has been barred from becoming president.
Yet this mixed picture is about what one would expect to see at this stage in Myanmar's conversion from military dictatorship. The country -- whose economy is about the size of Fresno, California's -- has only just begun to emerge from decades of isolation, brutal repression and underinvestment in areas such as infrastructure, health and education. The liberalizing measures adopted thus far have been the "easy" ones, in many cases requiring little more than President Thein Sein's signature: relaxing press censorship, freeing political prisoners, allowing labor unions and foreign investment.
The next wave of reforms threatens institutions and longstanding ways of doing business, challenging powerful interests both inside and outside the military. At the same time, with elections due in a year, political jockeying is growing more intense. Cease-fire prospects have faded in part because ethnic rebels worry a new government might renounce or try to renegotiate any peace accord.
These challenges have no quick answers. While there's no justification for preventing Suu Kyi from ascending to the presidency if she has the votes, even that wouldn't guarantee progress. She has shown herself no more willing than any mainstream Burmese leader to defend the rights of Rohingyas. Her economic vision is vague at best, and she's done nothing to groom capable successors within her National League for Democracy.
And were Suu Kyi elected, a revanchist backlash would probably make her job even harder. There remains deep suspicion within the military about her foreign ties, and many ethnic groups distrust her as well.
Rather than try to ensure a particular outcome from next year's elections, Obama and other international leaders should continue to reinforce Myanmar's institutions and democratic processes. That means strengthening political parties, the civil service and the judiciary -- as well as monitoring elections.
The state must be held to international standards in the treatment of Rohingyas, and to greater efforts to prevent ugly hate speech and incitements to violence against Burmese Muslims. The military must be pressed to continue its gradual withdrawal from politics and the economy, and to end the culture of impunity within its ranks.
All of this will require patient and sustained engagement, not renewed sanctions and isolation. Burmese leaders have made clear that they want to rejoin the world. The U.S. should use all the usual tools of diplomacy -- that is to say, carrots as well as sticks -- to encourage them.
--Editors: Nisid Hajari, Mary Duenwald.
To contact the senior editor responsible for Bloomberg View's editorials: David Shipley at davidshipley@bloomberg.net .
Before it's here, it's on the Bloomberg Terminal.
LEARN MORE