China Loves Obama Even If U.S. Doesn't
Obama's sustained popularity in China isn't just about charisma. Ultimately, it's about values.
by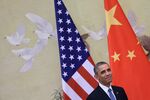 Any doubts about the enduring popularity of President Barack Obama in China should have been put at rest Monday morning, shortly after his arrival in Beijing for the APEC summit. China's state-run CCTV network was on the scene live, reporting every moment of his entry, including what was described as his "slow walk" down the Air Force One jetway. Except, according to the thousands of Chinese users of social media who were watching, Obama wasn't walking slowly -- he was trotting quickly.
Big deal, right? Anywhere else in the world, such a discrepancy wouldn't matter to anyone but the most committed troll. But in China, where state media is widely (and correctly) viewed as the scripted voice of a self-interested Communist Party, and Obama remains an aspirational symbol of American freedom and power, this was cause for viral delight. Soon, the video was circulating widely, along with a joke in which a pre-arrival Obama takes bets on whether the Chinese will describe him as "walking slowly." The wily American president, wise to China's bent media environment, can't find any takers.
Needless to say, such a joke isn't going to get many laughs back home, even among Democratic partisans. But Chinese social media, in particular, has been a reliable  fan and supporter of Obama since 2008. Much of the interest is in his personal story as a self-made leader, which resonates in a country where top leaders achieve their positions primarily on the basis of family connections, and racial or ethnic minorities are effectively shut out of senior government positions. At the same time, his charisma and personal ease -- especially in relation to his relatively staid Chinese counterparts -- are widely admired and even coveted among Chinese anxious to see their government play a more public role on the world stage.
To be sure, U.S. government shutdowns, lost mid-term elections and the strong initial stages of President Xi Jinping's rule have diminished Obama's appeal in China. He's also been somewhat overshadowed by Russian President Vladmir Putin, the most talked-about and, arguably, popular foreign leader on Chinese social media. This is largely the result of Putin's comic book image as a bare chested sportsman quick to offer his coat to the Chinese first lady. But as much as Chinese social media enjoys posting about the Russian's exploits, it's nearly impossible to find anyone suggesting that China has anything to learn from him, much less extolling the virtue of his autocratic rule in Russia. In spirit, if not form, he is much the same as the current Chinese strongman.
From a public relations standpoint, that's the good luck of any U.S. president who values (for whatever reason) his popularity in China, as Obama seems to. To an extent, it even provides Obama with some leeway when it comes to all-important protocol. Take, for example, the public reaction to news that Obama turned down a ride in a Chinese-built Red Flag limousine in favor of his own flown-in Cadillac for Monday night's televised drive to the gala dinner. A Tuesday USA Today story, widely circulated on Chinese social media, noted that "some Chinese" were "riled" by his rude behavior, which included chewing gum as he stepped out of the limousine. But among those circulating the story on the Twitter-like service Sina Weibo, many seemed to find in it praiseworthy signs of Obama's genuineness as compared to leaders who "put on a show." Though it's difficult to generalize across an entire social media platform, insofar as he is compared to his peers at APEC and in China, Obama usually comes out as the winner.
That, of course, is something that the Chinese government has known for a long time. Obama's first trip as president to China in 2009 was heavily stage-managed by the Chinese government so that his then-much-bigger star power wouldn't overshadow that of his host, President Hu Jintao. Xi Jinping is very different than his predecessor: he obviously relishes the opportunity to be seen in public with Obama, and was beaming at today's press conference. But away from the summit and cameras, you can be sure that Xi knows as well as his predecessors that Obama's sustained popularity in China isn't just about charisma. Ultimately, it's about values.
This column does not necessarily reflect the opinion of Bloomberg View's editorial board or Bloomberg LP, its owners and investors.
To contact the author on this story:
Adam Minter at aminter@bloomberg.net
To contact the editor on this story:
Tobin Harshaw at tharshaw@bloomberg.net
Before it's here, it's on the Bloomberg Terminal.
LEARN MORE