Bubbly Times for Tech VCs
Market cycles will eventually turn, and the lofty valuations that startups currently enjoy will be forced to come down. So where do risks lurk in VC-land?
by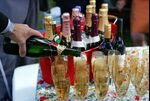 Investors probably will never bury venture capital firms under the mountains of cash that they once did in such banner years as 2000 and 2001, during the height of dot-com madness, when VCs could take in tens of billions of dollars in a single quarter.