Editorial Board
A Breakthrough for Global Trade?
The economic benefits of the China-U.S. trade deal are clear to both countries, and it may also help revive global trade talks.
by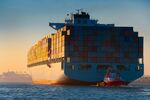 When the world's two largest economies agree on anything -- whether climate change or trade -- the agreement has global impact. The question then becomes how to maximize the good and minimize the bad.