A Breakthrough for Climate Protection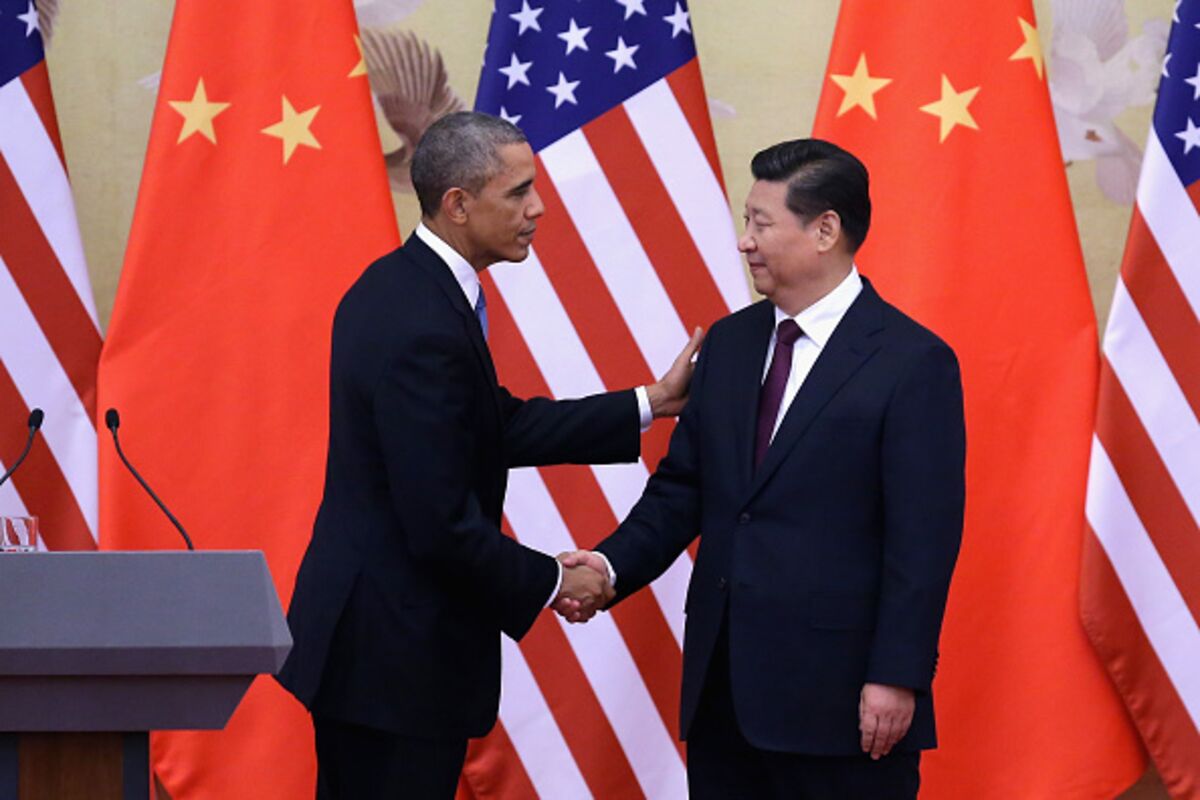 Photographer: Feng Li/Getty Images
The U.S.-China climate deal announced today in Beijing may well mark the end of finger-pointing between the two countries and the start of cooperation on reducing greenhouse-gas emissions. It eliminates what is perhaps the biggest excuse for inaction on a global climate pact: that any other country's commitments would be meaningless until the two biggest carbon emitters acted.
Related: Could the U.S.-China Pact Be a Breakthrough for Global Trade?
Now, it's possible to contemplate an effective agreement coming out of next year's international climate conference in Paris -- if other rich countries follow suit.
In themselves, the targets set today are not a great leap forward. China had already expected to start lowering its carbon-dioxide emissions by 2030, and to raise its share of energy from renewable sources; given rapid growth in the sector, getting to the promised 20 percent shouldn't be impossible. For his part, U.S. President Barack Obama had already set in motion the automobile standards and power-plant regulations that will enable the U.S. to reduce net greenhouse-gas emissions 26 percent to 28 percent below 2005 levels in the next 10 years. That both countries' targets are realistic also makes them more likely to be met.
Add in that the European Union earlier committed to its own carbon cuts, and holdouts no longer have any excuse to dither. One of the biggest of these is Japan, whose emissions have risen since its nuclear plants were shut down after the 2011 Fukushima disaster. Japan's current target effectively allows the country to increase emissions more than 3 percent over 1990 levels by 2020.
Another laggard is Australia. Prime Minister Tony Abbott's government has scrapped a carbon tax and is looking to alter a requirement that the country get 20 percent of its electricity from renewables. Officials have even sought to keep climate change off the agenda at this weekend's Group of 20 summit in Brisbane. Both Japan and Australia should instead be working up firm, credible plans to reduce their emissions ahead of an April target date set by the United Nations.
To bring everyone else into the game, developed nations need to fulfill their pledges to mobilize, by 2020, $100 billion a year to help poorer countries reduce emissions and adapt to flooding, drought and other effects of climate change. A three-year effort to kick-start this financing, which finished in 2012, netted a mere $10 billion a year. Politically, countries such as India can't commit to hard emissions targets without a reasonable expectation that pledged funds will materialize.
Obama and Chinese President Xi Jinping deserve credit for announcing their deal a year before the Paris climate meeting, allowing other countries time to re-evaluate their carbon targets. Their leadership needs to continue. Both China and the U.S. will have to regularly re-examine and upgrade their commitments as time goes on and green technologies develop -- to show the world they're serious, and inspire everyone else to do their part.
To contact the senior editor responsible for Bloomberg View's editorials: David Shipley at davidshipley@bloomberg.net.