view
Want Communion? Pay Your Taxes
I don't recall Christ saying anything about an admission fee to hear him preach.
by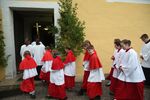 The German Catholic Church is contemplating denying communion to Catholics who have ... wait for it ... declined to register as Catholics with the government. The reason? Those Catholics don't want to pay their "church tax." That's right: Germany taxes registered religious believers of major denominations, distributing that money to the country's churches, temples and the like. And it recently changed the rules for calculating the tax to include capital gains, prompting an exodus of presumably well-heeled Catholics from the official rolls. So the German church is threatening to cut them off. Lots of tax rules seem to be written on a pay-to-play basis, but I've never before heard of one that was "pay to pray." I don't recall Christ saying anything about an admission fee to hear him preach.
To American ears, this is positively shocking. The American Catholic Church certainly doesn't want you to take communion if you haven't been baptized by the church or confessed any mortal sins. But no one checks to see whether you made a deposit in the offering plate. What's going on here?
What's going on is a phenomenon that conservative-leaning analysts call "crowding out": when government provision of a service destroys the voluntary institutions that used to do so. This phenomenon often gets exaggerated, but there's no doubt that it's real enough -- and in the actions of Germany's Catholic bishops, I think we are seeing an extreme example of where it can lead.  
Without the need to support itself with voluntary offerings, the Catholic Church in Germany has become dependent on government support. And government support has some big drawbacks compared to voluntary contributions. To be sure, government money is nice and steady, but it's also fixed at the amount of the tax.  
That creates two problems. First, you can't plead with the well-heeled to help you make up for the losses from other parties. Or maybe you can, but because you no longer have a robust culture of voluntary donations, you don't have the donor base, or the fundraising expertise, that you need.
The second problem, arguably even bigger than the first, is that a mandatory tax only gives church members two choices: Pay up or leave. If the tax is taking more than they're willing or able to pay, instead of a smaller contribution, the church gets none at all. Many have chosen to exit -- and so the bishops are trying to make the exit more costly.
As you've probably guessed, this is not really limited to churches. America has a long, robust tradition of voluntary private organization -- Tocqueville noted as much in "Democracy in America." It's easy to forget how unusual this is, and how fragile it can be. America has some of the most thriving church communities in the developed world, funded entirely by private giving. It also has the most robust volunteer sector -- again, funded mostly by private giving.
I'm not arguing that voluntary charity can entirely replace the private safety net. But when we contemplate expanding the government's mission to areas that are currently supported by voluntary action, we should be mindful of what we can lose, as well as what we might gain.
To contact the author on this story:
Megan McArdle at mmcardle3@bloomberg.net
To contact the editor on this story:
Brooke Sample at bsample1@bloomberg.net
Before it's here, it's on the Bloomberg Terminal.
LEARN MORE