Simple Policies Win Elections
Obamacare is Exhibit A of why complex legislation is hard, and politically dangerous, to sell.
by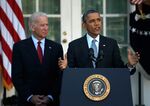 Michael Kinsley once famously defined a gaffe as when a politician says what he or she truly believes (i.e., "a gaffe occurs not when a politician lies, but when he tells the truth"), a formulation so iconic that it is now known in the trade as a "Kinsley Gaffe." A special subcategory of Kinsley Gaffe is becoming more common in these days of ubiquitous personal electronics: "accidentally telling the truth without knowing a camera or a tape recorder was running." This is the category where we'd put Obama's remarks about "bitter" working-class voters who "cling to guns or religion or antipathy to people who aren't like them"  and Mitt Romney's complaint about "the 47 percent."