China Celebrates Singles Day at Alibaba
A manufactured, consumerist holiday says much about China's changing family structures.
by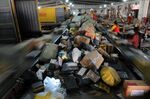 Xi Jinping probably woke up Tuesday morning expecting that his country's Internet users would be buzzing about the 21 world leaders he's hosting in Beijing for the Asia-Pacific Economic Cooperation summit, and how he made them all dress up like they were attending a Star Trek convention. But even though China's social media platforms were indeed unusually busy this morning, the frenzy had nothing to do with APEC, Vulcan fashion, Xi, or any of his distinguished guests.
According to the trending topic list at Sina Weibo, the No. 1 subject at 9 a.m. today was Singles Day, a recently manufactured holiday that's become, by sales, the world's biggest shopping extravaganza, surpassing even the combined sales of Black Friday and Cyber Monday. The No. 2 item on the list was Alibaba, the e-commerce giant that's transformed Singles Day into the behemoth it is now, followed by the company's online payment service Alipay. Fourth and fifth on the list were two different ways of saying "sales turnover."
The frenzy was indeed reflected in sales over the course of the day. Last year, Alibaba racked up $5.75 billion during the one-day jamboree. By 1:30 p.m. today, the company had already blown past that mark on its way to a new record.
Why so much interest in a holiday that doesn't celebrate much except unabashed consumerism? The ever-increasing affluence of Chinese shoppers certainly helps, and flamboyant Alibaba founder Jack Ma has been an unusually energetic cheerleader. But at the same time, the holiday taps into deep changes in Chinese family structures and attitudes toward the unmarried.
In Chinese tradition, single-dom is generally viewed as a temporary state. A man without a wife and child is sorrowfully dubbed a "bare branch." (Single females suffer the more insulting moniker "leftover women" if they manage to make it into their late 20s without finding a spouse.) For both sexes, the stigma attached to being single is intense, leading to depression, family frictions, and most famously, rent-a-boy/girlfriend services for the purpose of satisfying nosy relatives during the stressful, family-oriented Chinese New Year season.
So when, as the most commonly accepted story goes, a group of bachelor students at Nanjing University cooked up a holiday in the 1990s to celebrate themselves -- and, in the process, maybe find dates -- there was something a bit rebellious about it. They chose "Bare Branches Day" as the name for the holiday (the typical English translation, "Singles Day" doesn't really evoke the same cheekiness). The chosen date -- 11/11 -- was meant to represent those branches.
As China has urbanized rapidly since then, more and more young people who might have married shortly after school are now waiting. Where once they would transition into parenthood in their early 20s, now they're acting more like their counterparts in developed countries and spending those years primarily focused on friends and themselves. They are also becoming more affluent. Without a family to splurge on, they do the natural thing and splurge on themselves.
The business opportunity is immense, and in 2009 Alibaba's Jack Ma had the foresight to launch a Singles Day sale on his company's online platforms. The timing was perfect: Mobile computing, social media, and e-commerce were beginning to take off, especially among the young urban singles who were inclined to celebrate Singles Day and had spare cash to spend.
Within a couple of years, Alibaba and Singles Day were almost synonymous, and the "Bare Branches" origins of the holiday were being forgotten almost as fast as sales were increasing. Perhaps the most telling thing about Singles Day, though, even beyond the astonishing sales figures, is the fact that the holiday isn't just for singles anymore. According to a survey conducted by Nielsen and China Daily, 55 percent of likely Singles Day shoppers this year were married with children. A holiday that had its origins in a kind of mordant joke at society's familial expectations has become as mainstream as Chinese New Year. No doubt Jack Ma is laughing all the way to the bank.
This column does not necessarily reflect the opinion of Bloomberg View's editorial board or Bloomberg LP, its owners and investors.