NFL Scores Points With Gay Business Owners
It might be good PR, and it's definitely good business, but we can still appreciate the NFL's efforts to reach out to the LGBT community.
by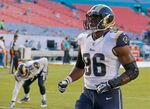 With Michael Sam stuck in football limbo, many are wondering where that leaves the movement for LGBT equality in professional sports. While the situation on the field remains murky, the National Football League has decided to use its heft as a business powerhouse to help the cause outside the arena.