Limiting Payday Loans Is Tricky
Rules on payday lending risk choking off credit to the most vulnerable, but new U.K. rules seem sensible.
by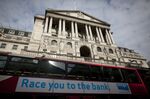 Pity the government that tries to regulate payday lending, those short-dated personal loans that come with exorbitant interest rates. Overseeing an industry that caters to society's most vulnerable is always a game of unintended consequences. Outlaw payday loans altogether, and you choke off credit to the low-paid when they're at their most financially desperate.