T-Mobile Takes on a Georgia Town
Does a city council have to give a reason when it denies a cellphone tower? It depends on whether you think it was acting as a legislature or a regulatory agency.
by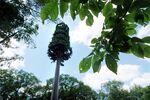 Why must the government give reasons for its actions? This is the kind of fundamental question of due process at which the U.S. Supreme Court excels. Today the justices will walk into the courtroom and pretend they're unaware of the headlines announcing that they've agreed to consider the Affordable Care Act and will almost certainly have to consider same-sex marriage. Then they'll get down to work and consider whether the city of Roswell, Georgia, sufficiently explained its decision to turn down T-Mobile's request for a cellphone tower dressed up to look like an oversize Georgia pine.