Putin's Hitler-Pact Defense Should Worry Everyone
Vladimir Putin says the 1939 Nazi-Soviet pact was defensive and normal. He could not be more wrong.
by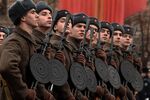 Russian President Vladimir Putin made headlines around the world last week when he defended the 1939 Nazi-Soviet non-aggression pact, by which Stalin and Hitler agreed secretly to divide Eastern Europe between them. It was, Putin said, in line with the normal "methods of foreign policy" of the time.