view
Ivy League Forces Star to Put Sports Over Classes
The Ivy League has decided that upholding its image of an academics-first institution supersedes the needs of its students who happen to play sports.
by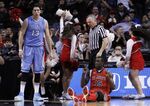 A college athlete has been forced to sacrifice academics for athletics, but for once the NCAA isn't to blame.
The Columbia Spectator reports that senior forward Alex Rosenberg has withdrawn from school this year, and will remain eligible for a final season on the men's basketball squad next year. Rosenberg, the team's leading scorer, suffered a Jones fracture in October, and cannot play this season. Unlike the rest of Division I, the Ivy League does not allow medical redshirts, requiring athletes to expend their four years of eligibility in their first four years as full-time students. Ivy League athletes are thus prohibited from competing as grad students, but can apply for a waiver for a fifth year of eligibility strictly for academic reasons, and must demonstrate that they're not under pressure from coaches to do so. 1
Rosenberg explained his thinking to the Spectator. "For me, it was pretty clear what I had to do first and foremost was take a leave of absence from school, because right now I'm not even in a cast yet -- my leg is immobilized," he said. "After talking to the doctors, and how long I'd be out, it'd be a mistake to try to come back early, so it made more sense to just take the whole year off."
Prohibiting the practice of redshirting is part of the Ivy League's efforts to set itself apart from the rest of college athletics, maintaining its famously rigorous academic standards and emphasizing the classroom over the court. As Deadspin's Barry Petchesky notes, the league cites its redshirt rules and stated practice of not issuing athletic scholarships in touting itself as a bastion of the student-athlete ideal that has been so eroded by the increasing professionalization of big-time college sports. Throughout the rest of Division I, the widespread practice of strategically redshirting freshmen gives these players an extra year of training and studying playbooks while maintaining their four years of eligibility through their fifth year of school.
Redshirting has thus been criticized as violating the spirit of amateurism, yielding what amounts to semi-professional athletes who've largely completed their academic requirements and whose final year of college is mainly about sports. It's a legitimate gripe. As Higher Ed Watch wrote back in 2007, "these fifth-year players are essentially playing as professionals (of course, without the getting paid part), and are making a joke of the term 'student-athlete.' "
In that respect, the Ivy League's purpose in not allowing redshirting seems admirable -- except when you consider that the idea of the "student-athlete" is a joke in itself in the college sports landscape. The eight Ivy League colleges may have higher academic standards than other NCAA schools. But with nearly 20 percent of incoming freshman being recruited athletes, many of whom are subjected to lower admissions standards than their peers, it's rather difficult to argue that sports aren't prioritized at all in the Ivy League.
To be clear, I don't see this as being bad. Playing a sport is a skill, like playing an instrument, that adds dimension to an application and might allow for a slightly lower SAT score in what is already a highly subjective admissions process. (I see your 20 percent incoming athletes, and raise you 15 percent incoming legacies.) Athletics comprise one potential aspect of an ideally holistic student-body, and Ivy League athletes boast the highest graduation rates in the NCAA. (Disclosure: I went to Columbia and covered sports for the Spectator.)
Opening the Ivy League to highly regulated medical redshirting wouldn't suddenly send Harvard and Yale down the path of fake jock classes and 146-word "essays" -- it would allow players such as Rosenberg a more honest approach to their education, a part of which is sports. It's rather disingenuous to boast that your rules governing student-athletes primarily serve the student when they force him to drop out for a year to remain an athlete.
The problem is that the Ivy League has decided that upholding its image of an academics-first institution supersedes the needs of its students who happen to play sports. It's not all that surprising: The Ivies run on a perpetual motion machine of prestige, maintaining their elite aura through pretenses that often act to the detriment of its students. (Just ask any Ivy Leaguer who couldn't take undergraduate journalism classes because they were considered "vocational.")
Along those lines, perhaps all we need is to rebrand "redshirting" to make it more palatable to the patricians. In the upper-crust world of prep-school lacrosse, for example, the practice is known as "reclassifying." At the very least, that might deter us from antiquated rules that effectively take students out of the classroom in order to keep them on the field.
(Updates to add quote from Rosenberg in third paragraph, and footnote with response from the Ivy League.)
Update: Scottie Rogers, the communications director for the Ivy League, e-mailed me this clarification of the policy, which he said is "derived" from language in the official Ivy League Manual: "The Ivy League does allow institutions to submit hardship waivers on behalf of their student-athletes who are injured and qualify to restore the season of eligibility per NCAA medical hardship rules. If a student-athlete will be enrolled for a fifth calendar year since his/her initial enrollment at that Ivy League institution, s/he must receive a waiver to compete from the Ivy League office. The Ivy League does not allow traditional (non-medical) redshirts, when a student-athlete is enrolled and practicing but chooses not to compete or never gets into a contest based on coaching decisions."

I asked to see the actual manual, but Rogers wrote that it "is not distributed publicly."
To contact the author on this story:
Kavitha A. Davidson at kdavidson19@bloomberg.net
To contact the editor on this story:
Tobin Harshaw at tharshaw@bloomberg.net
Before it's here, it's on the Bloomberg Terminal.
LEARN MORE