Cameron Takes Pandering Too Far
David Cameron's pandering on immigration risks triggering the U.K. exit from the EU that he wants to avert.
by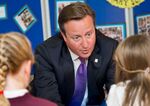 David Cameron's gamble in promising the U.K. a stay-or-go referendum on membership of the European Union is growing more hazardous. Britain's prime minister wants the country to stay in the EU, but not on the existing terms. He'd like to renegotiate the contract and then recommend the new deal to voters -- but he needs the other EU countries to go along.